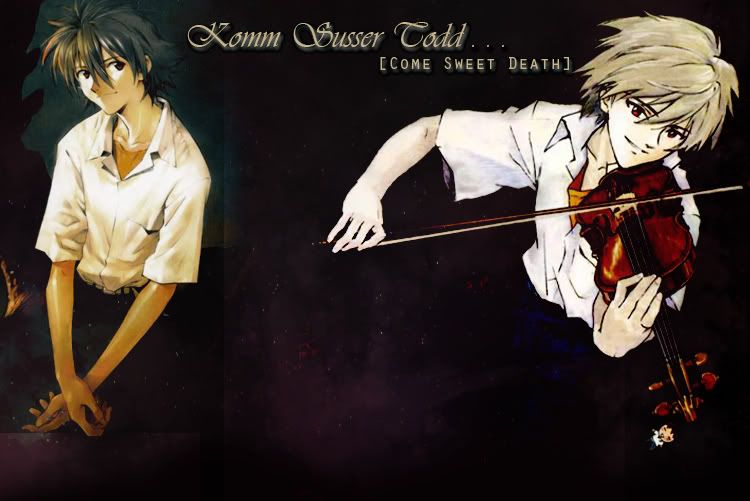 Sunday, January 10, 2010
Ahou-dera & Baka-ushi @ NYP open house
Half-woke up thinking it was a Sunday. I was so sure I could rest. Because the 3 days were over. Day 1: Belphegor... Day 2: Natsuo... Day 3: Lambo.... But.... I could not find any memories of being Lambo... Then I realised... ITS NOT OVER YET. Woke up with a start and rushed to grab the shirt and black fabric paint. No choice, must paint visible ones only. Then I did the buckle. Skipped my eyebrows... That will have to be done some other time... shoot hopefully? Stuffed stuff into my bag and left the house... Wore my wig on the way to the bus stop =A= It's so... Shinn Asuka. lol. Met Ahou-dera at the school stop and wooshed to the lib to give hearts to the piano.
iLol @ amt of phoshop on this pic. During this shot, I hadn't fastened my buckle on... When I had it on, it stayed only for a while and got lost due to my hulk transformation. Shitheadsai. Made me almost break the glass door.
Baka-ushi in action.

I wants KHR shoot!!!!!!!!!
Labels: khr
Time Recorded: 3:28 PM
※ ※ ※ ※ ※ ※ ※ ※ ※ ※ ※ ※ ※ ※ ※ ※ ※
※Gate1: Enter
Nobody but myself is expected to come here.
All posts are cosplay related, hence not to be taken too seriously ;D
♦Bokura wa Ima no Naka de♦


※ Gate2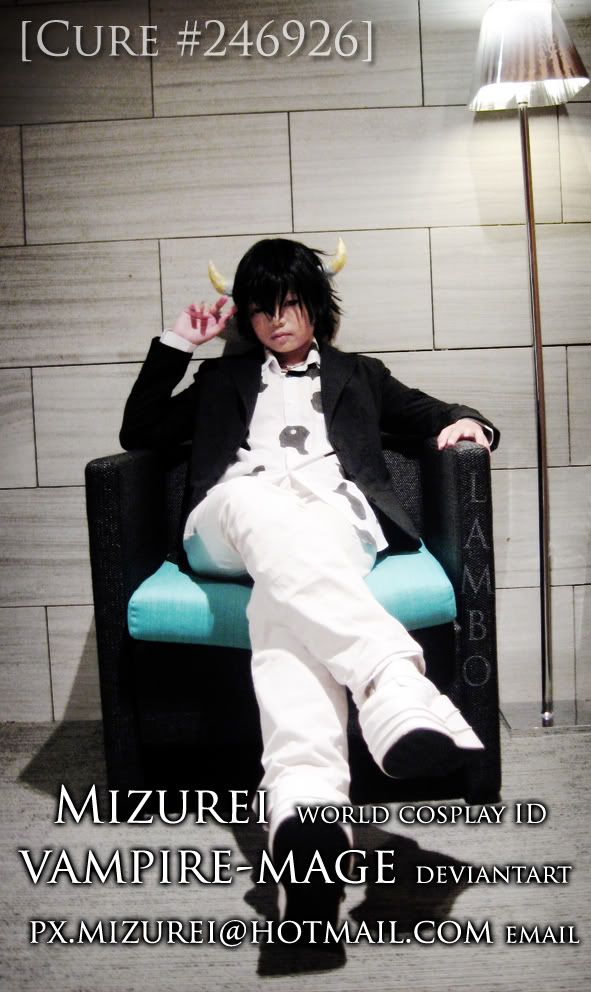 Mizurei is:
-short
-heavy
-ugly
-annoying
-sees light and darkness everywhere


※ Gate3
[☆]Ongoing Projects[☆]
♦ Miaka
♦ Hixar Fermi
♦ Alice Royal Suit
♦ Sugata
♦ Kagura
[★]Completed Projects[★]
[2007]
♦ Haku
[2008]
♦ Ema Skye
♦ Trucy Gramarye*
[2009]
♦ Meirin
♦ Natsuo
♦ Lucy*
♦ Void
♦ Belphegor
♦ Cheshire Cat
♦ Alice*
[2010]
♦ Lambo 15yrs old
♦ Fergus
♦ Cagalli GSD
♦ The Arrow*
♦ Mrs. Peacock
♦ Takiko
♦ Rook (OC)
♦ Queen*
[2011]
♦ The Little Prince
♦ Kunieda Aoi (hakama)
♦ Sirius Black
♦ Rose Sheedy
♦ Ginchiyo Tachibana
♦ Bartender (OC)
[2012]
♦ Tsunayoshi Sawada
♦ Cagalli GS
♦ Katsura Kotarou
♦ Kunieda Aoi (manga art ver)
♦ Lamia*
♦ Kanon
♦ Eva-chan
♦ Lan Fan
♦ May Chang*
♦ Spring (OC)
[2013]
♦ Katsura Kotarou (uni)
♦ Haru
♦ Katsura Kotarou (Benizakura Arc)
♦ Soujiro Seta
♦ Sasha Blouse
♦ Rico
♦ Christa*
♦ Cagalli GSD final plus
♦ Sasha Blouse (hunter)
[2014]
♦ Katsura Kotarou (Joui)
♦ Legolas Greenleaf (DoS)
[2015]
♦ Duo Maxwell (Preventers)
♦ Kuneida Aoi (uni)
* Cosplayer: Sarah
※ Gate4: Exit
Main Blog
the Lesser Generation
※ SideGate