Thursday, May 20, 2010
Tightrope~
White lies are inching further to the truth. This may be the line that's drawn to keep the truth from spilling out, now that I know it must never be revealed.
Without school to use an excuse, I had to tell oto-baka I'm going to buy materials to make stuff. Lately I've been making alot of stuff, and he asked why, so I had to say I'm making a costume. I had to further reveal the reason, CAF. Or as I told, Arts Fest, which is now becoming an external event. Feeding info little by little, I'd let him assume the worst, so that I know what info to deny. haha. I suggested I'm the one wearing the costume, which was opposed strongly. So casually, I said "I don't have to be the one wearing it~ anyone can~". Thus it became the lie which I will have to depend on to survive the event. He mentioned that I don't need to participate in the event, in his usual pathetic annoying whiny tone which I objected to with the flames of my resolve burning bright =_=. Seriously now, how can he say something like that and then at other times say he never interferes with what I want to do. What fucking logic.
Anyway. My worry is, after only 3 years, I managed to touch the thin red line. How many more chances will come by before I fall, or retreat? Especially when I'm making my stuff openly, chances of slipping is high. Maybe I should have my costumes tailored from now on =_= Even that might not work... ugh~
Enough of that, next entry must be on cosplay progress.
Time Recorded: 3:38 PM
※ ※ ※ ※ ※ ※ ※ ※ ※ ※ ※ ※ ※ ※ ※ ※ ※
※Gate1: Enter
Nobody but myself is expected to come here.
All posts are cosplay related, hence not to be taken too seriously ;D
♦Bokura wa Ima no Naka de♦


※ Gate2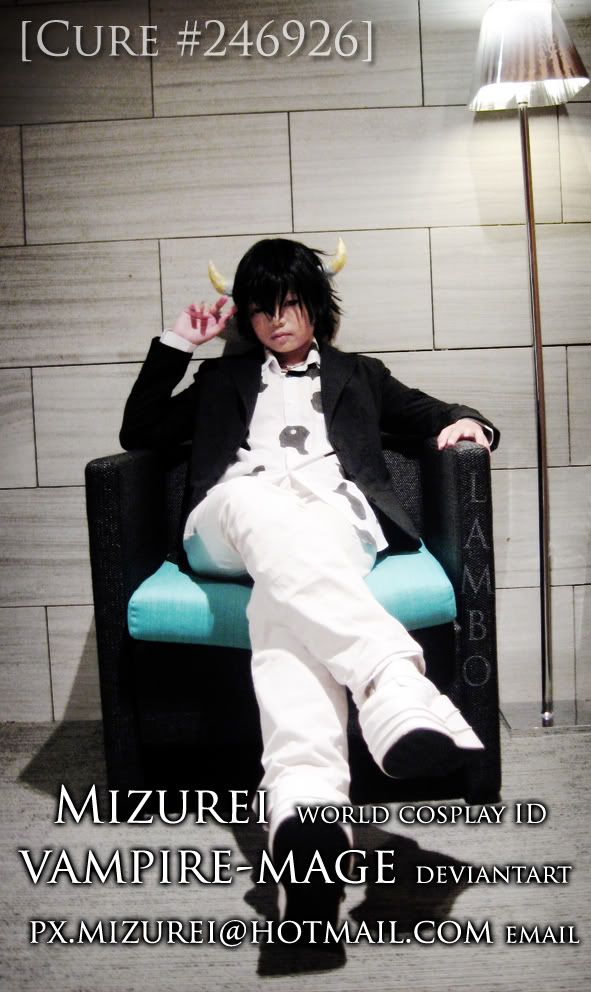 Mizurei is:
-short
-heavy
-ugly
-annoying
-sees light and darkness everywhere


※ Gate3
[☆]Ongoing Projects[☆]
♦ Miaka
♦ Hixar Fermi
♦ Alice Royal Suit
♦ Sugata
♦ Kagura
[★]Completed Projects[★]
[2007]
♦ Haku
[2008]
♦ Ema Skye
♦ Trucy Gramarye*
[2009]
♦ Meirin
♦ Natsuo
♦ Lucy*
♦ Void
♦ Belphegor
♦ Cheshire Cat
♦ Alice*
[2010]
♦ Lambo 15yrs old
♦ Fergus
♦ Cagalli GSD
♦ The Arrow*
♦ Mrs. Peacock
♦ Takiko
♦ Rook (OC)
♦ Queen*
[2011]
♦ The Little Prince
♦ Kunieda Aoi (hakama)
♦ Sirius Black
♦ Rose Sheedy
♦ Ginchiyo Tachibana
♦ Bartender (OC)
[2012]
♦ Tsunayoshi Sawada
♦ Cagalli GS
♦ Katsura Kotarou
♦ Kunieda Aoi (manga art ver)
♦ Lamia*
♦ Kanon
♦ Eva-chan
♦ Lan Fan
♦ May Chang*
♦ Spring (OC)
[2013]
♦ Katsura Kotarou (uni)
♦ Haru
♦ Katsura Kotarou (Benizakura Arc)
♦ Soujiro Seta
♦ Sasha Blouse
♦ Rico
♦ Christa*
♦ Cagalli GSD final plus
♦ Sasha Blouse (hunter)
[2014]
♦ Katsura Kotarou (Joui)
♦ Legolas Greenleaf (DoS)
[2015]
♦ Duo Maxwell (Preventers)
♦ Kuneida Aoi (uni)
* Cosplayer: Sarah
※ Gate4: Exit
Main Blog
the Lesser Generation
※ SideGate