Tuesday, December 14, 2010
EOY 2010
I'm lazy to write coherently... so here goes -_-
The night before EOY, I was separating chains in between baking. It's a giant oreo~
I WANNA BAKE AGAIN~
And then I fell asleep again while pretending to sleep. Luckily there was only glueing left to do.
Good thing about RP being the venue, no shortage of toilets!! and spacious too~ It was noon by the time I was done. Yuu-chan had (secretly) set up the table for Aki's beeeelated birthday celebration and then my brain failed as I realised OMG IM AT A COSPLAY EVENT AND COSPLAYING AGAIN~
During the event, Aki and I got interviewed and we got a wedding-looking shot taken. HAHAH.
We look good together!
Well yeah other photos at FB...
I had fun~ but how come there's a shortage of imba cosplays? ToT All used up at STGCC ar? hahah... I think I miss expo. I miss the open stage! But the performance setup under Black Alice's owner is more professional and the sound and lighting is much better. ZERODIA~!!! RENAISSENCE~!!! I missed Ryuusei because I had to change out already... D=
Didn't get to meet a lot of people... Some MIA and some just... missed somehow.
Time Recorded: 5:27 PM
※ ※ ※ ※ ※ ※ ※ ※ ※ ※ ※ ※ ※ ※ ※ ※ ※
※Gate1: Enter
Nobody but myself is expected to come here.
All posts are cosplay related, hence not to be taken too seriously ;D
♦Bokura wa Ima no Naka de♦


※ Gate2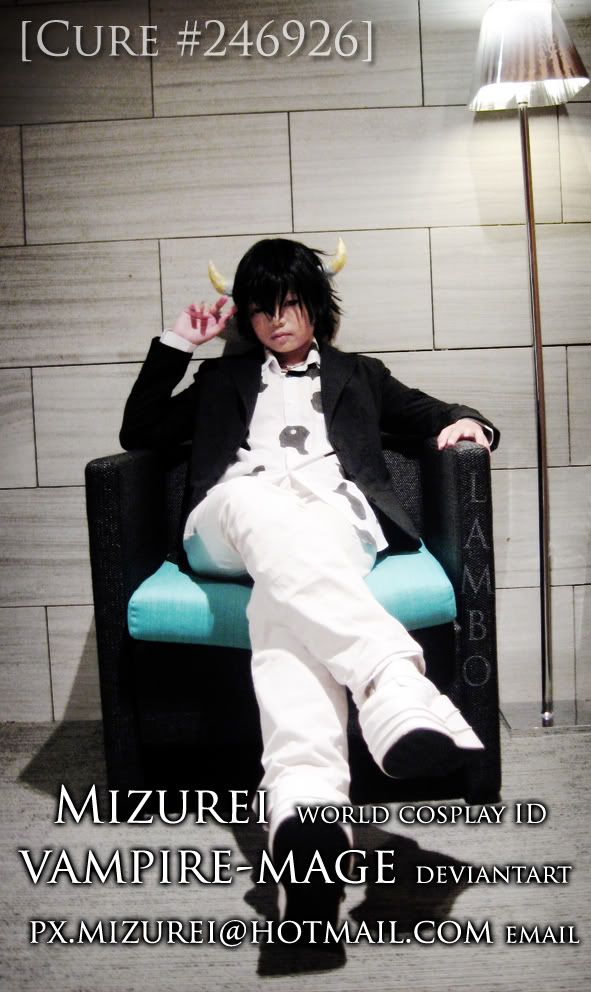 Mizurei is:
-short
-heavy
-ugly
-annoying
-sees light and darkness everywhere


※ Gate3
[☆]Ongoing Projects[☆]
♦ Miaka
♦ Hixar Fermi
♦ Alice Royal Suit
♦ Sugata
♦ Kagura
[★]Completed Projects[★]
[2007]
♦ Haku
[2008]
♦ Ema Skye
♦ Trucy Gramarye*
[2009]
♦ Meirin
♦ Natsuo
♦ Lucy*
♦ Void
♦ Belphegor
♦ Cheshire Cat
♦ Alice*
[2010]
♦ Lambo 15yrs old
♦ Fergus
♦ Cagalli GSD
♦ The Arrow*
♦ Mrs. Peacock
♦ Takiko
♦ Rook (OC)
♦ Queen*
[2011]
♦ The Little Prince
♦ Kunieda Aoi (hakama)
♦ Sirius Black
♦ Rose Sheedy
♦ Ginchiyo Tachibana
♦ Bartender (OC)
[2012]
♦ Tsunayoshi Sawada
♦ Cagalli GS
♦ Katsura Kotarou
♦ Kunieda Aoi (manga art ver)
♦ Lamia*
♦ Kanon
♦ Eva-chan
♦ Lan Fan
♦ May Chang*
♦ Spring (OC)
[2013]
♦ Katsura Kotarou (uni)
♦ Haru
♦ Katsura Kotarou (Benizakura Arc)
♦ Soujiro Seta
♦ Sasha Blouse
♦ Rico
♦ Christa*
♦ Cagalli GSD final plus
♦ Sasha Blouse (hunter)
[2014]
♦ Katsura Kotarou (Joui)
♦ Legolas Greenleaf (DoS)
[2015]
♦ Duo Maxwell (Preventers)
♦ Kuneida Aoi (uni)
* Cosplayer: Sarah
※ Gate4: Exit
Main Blog
the Lesser Generation
※ SideGate