Thursday, May 5, 2011
bla bla bla
Since I'm in cosplay planning mode, I shall rant.
Kunieda's hakama isn't a hakama =A= It doesn't have the side slits and its pleated all the way. Basically, it's the school uniform skirt, divided. GEH.
Red Tails gang!!!!!
☆O☆
No no no I musn't start.
*~*
As for Eva-chan (I just found out her name), I'm doing the yellow version instead of the blue.
Don't want to cut the blue wig, and I can use my current Cagalli wig for it since I'm getting a new one. Hur hur~ Even though I like the blue version more.... But what's the point of having the pinafore in blue if it's not the real blue for the uniform!
........ I used that reason to convince myself -_-
Spear of Longinus~ want~~ Can't go out of character if there's no written character profile right? hahahahahhahahahahahahahahahahahahhaha.
haaaaaaaaaaaahahahah.
.....
But it would be troublesome....
That aside.
EOY clashes with Comic Fiesta =o Not that I have plans to go CF, but people are already ditching EOY either because of the ticket prices or this. It feels like the event has been spiraling down an evil rabbit hole. But it's not totally up to the organizers whether an event fails or not. I do wonder what will happen~
yosh. my ranting juice dried up oredy. I shall go file plans which are scattered on my bed.
Time Recorded: 5:02 PM
※ ※ ※ ※ ※ ※ ※ ※ ※ ※ ※ ※ ※ ※ ※ ※ ※
※Gate1: Enter
Nobody but myself is expected to come here.
All posts are cosplay related, hence not to be taken too seriously ;D
♦Bokura wa Ima no Naka de♦


※ Gate2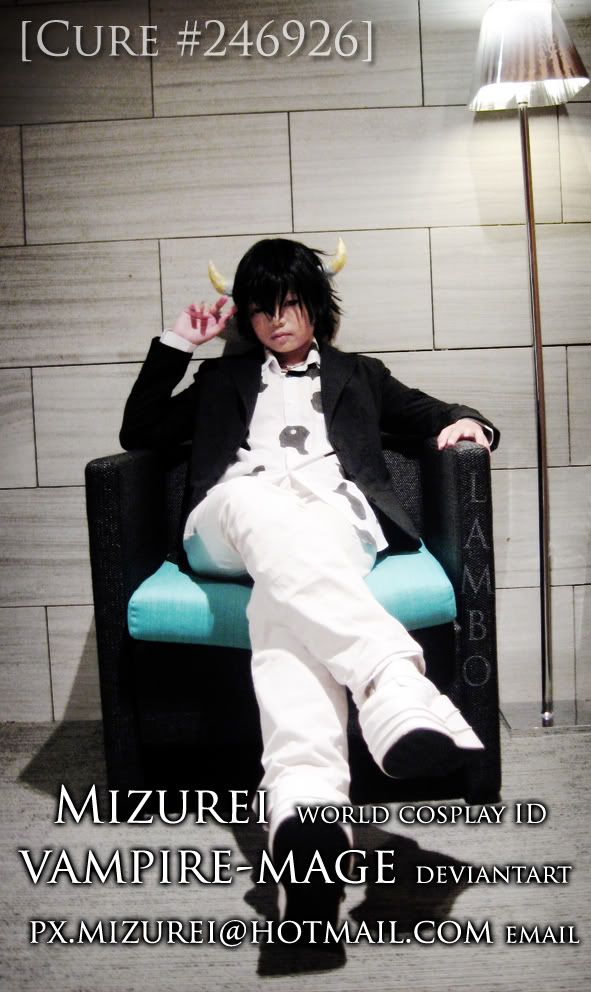 Mizurei is:
-short
-heavy
-ugly
-annoying
-sees light and darkness everywhere


※ Gate3
[☆]Ongoing Projects[☆]
♦ Miaka
♦ Hixar Fermi
♦ Alice Royal Suit
♦ Sugata
♦ Kagura
[★]Completed Projects[★]
[2007]
♦ Haku
[2008]
♦ Ema Skye
♦ Trucy Gramarye*
[2009]
♦ Meirin
♦ Natsuo
♦ Lucy*
♦ Void
♦ Belphegor
♦ Cheshire Cat
♦ Alice*
[2010]
♦ Lambo 15yrs old
♦ Fergus
♦ Cagalli GSD
♦ The Arrow*
♦ Mrs. Peacock
♦ Takiko
♦ Rook (OC)
♦ Queen*
[2011]
♦ The Little Prince
♦ Kunieda Aoi (hakama)
♦ Sirius Black
♦ Rose Sheedy
♦ Ginchiyo Tachibana
♦ Bartender (OC)
[2012]
♦ Tsunayoshi Sawada
♦ Cagalli GS
♦ Katsura Kotarou
♦ Kunieda Aoi (manga art ver)
♦ Lamia*
♦ Kanon
♦ Eva-chan
♦ Lan Fan
♦ May Chang*
♦ Spring (OC)
[2013]
♦ Katsura Kotarou (uni)
♦ Haru
♦ Katsura Kotarou (Benizakura Arc)
♦ Soujiro Seta
♦ Sasha Blouse
♦ Rico
♦ Christa*
♦ Cagalli GSD final plus
♦ Sasha Blouse (hunter)
[2014]
♦ Katsura Kotarou (Joui)
♦ Legolas Greenleaf (DoS)
[2015]
♦ Duo Maxwell (Preventers)
♦ Kuneida Aoi (uni)
* Cosplayer: Sarah
※ Gate4: Exit
Main Blog
the Lesser Generation
※ SideGate